Top 10 Social Media Trends to Prepare for in 2022
Top 10 Social Media Trends to Prepare for in 2022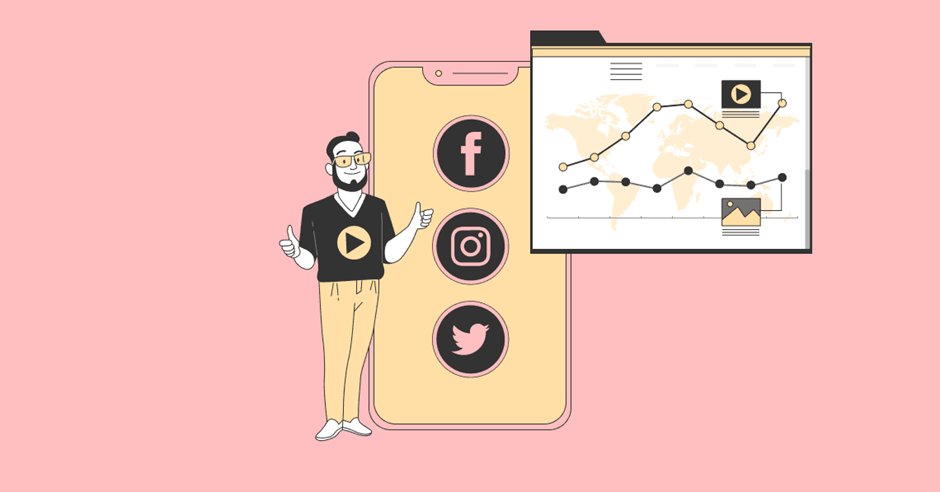 Due to the Pandemic – there has been a shift in the way brands promote products online. That said, social media popularity has increased in 2021. Social media users are becoming apt for using channels for consumer-related purposes.
Moreover, brands that use social media channels are rewarded with engagement and more traffic. But, of course, customers' expectations work on a paradigm shift – especially in the world of social media. To make sure you are well prepared to tackle the upcoming year – you need to dig into the top social media marketing trends to prepare for in 2022.
Top Social Media Trends to Prepare for in 2022
1. Direct shopping experience
A social opportunity was the first choice for businesses before the pandemic. But, increased social media use with the remote work culture created the right opportunity for a social shopping explosion.
As a result, most people started shopping more on E-commerce websites. According to a prediction by E-marketer – the social media industry will reach $80 billion by 2025. Though social media won't replace E-commerce – you can design your retail experience according to your need.
You can set up a Facebook or Instagram shop to attract new buyers. Moreover, make sure the customer experience is seamless with your brand. Focus more on the likes of your followers and their preferences. Also, experiment with ads.
2. Tiktok will dominate social media platforms
Tiktok has more than 1 billion users, and the figure recently surpassed making it the first choice for social marketers. Besides, it is now the 7th most popular social platform worldwide. However, despite the rapid growth of the app- most companies don't want to invest in the platform.
Instagram and Facebook – the two platforms are still popular choices for small businesses. However, Tiktok introduced some marketing tools in 2021 to create a marketplace. You can choose an account handle for your business or brand and explore the platform to find new ideas. Besides, you can create a marketing strategy for the platform to increase your reach in 2022.
3. Augmented Reality will pick up the pace
Most brands use Augmented Reality technology to test products before consumers purchase them. It acts as an effective business strategy that improves click-through rates. Moreover, AR is the most personal way to reach users and drive effective results for sales. In fact, there has been a considerable increase in AR engagement in the last three years.
Over 200 million Snapchat users engage with Augmented Reality every single day, making technology a sustainable one. AR trend is here to stay and will dominate in the year 2022. Snapchat is an effective social media platform to test AR, and you can reach millennials through it.
4. Social ads and social selling will simplify the process
The cookies are no longer relevant, but how they impact social media platforms is something to watch out for. The focus will shift to social ads but with a change in position. In addition, social selling will pick up the pace. Most people preferred eCommerce websites and online buying in Pandemic.
The trend will look deeper into how social platforms handle social selling. Additionally, you will see the demand growth in the future. Have you noticed the sponsored posts you see on Instagram and Facebook that sell products? Also, it becomes convenient for buyers to purchase from online stores.
5. Influencer marketing will gain prominence
Most people trusted social media influencers more than brands during the Pandemic. That makes influencer marketing a strong facet to explore in 2022. Influencer marketing grew its presence in social marketing platforms like TikTok and Instagram where most brands had a tough time establishing themselves.
However, in 2022, influencers need to align with your core business marketing needs. Your focus should be on influencers with a smaller but more engaging audience. Also, pay attention to influencers who specialize in niche topics.
You can run an impact-oriented influencer marketing campaign for 6 months – to see the right impact. Additionally, you can leverage your reach and collaborate with micro-influencers.
6. Businesses in B2B space will increase investment
Twitter and Instagram are not new to social media users. But, brands see the platforms as a medium to increase ROI. Twitter reached more than 200 million active users in the third quarter of 2020. On the other hand, Instagram saw a surge of more than 14% in 2020.
On Instagram, most users spend an average of 30 minutes per day – making the engagement growth in the platform higher compared to other platforms. As the growth will increase in 2022, more E-commerce brands will associate with the platforms to gain traction. As a new brand – you can consider Twitter and Instagram to boost your investments and get a higher ROI.
7. Long-form video reach will change
According to a recent survey by Vidyard, more than 60% of videos published in 2020 were not more than 2 minutes long. And this is a shift in the perspective of video watchers. As Instagram started IGTV, Facebook started 'Facebook watch' and YouTube started YouTube shorts.
Besides, the success of Instagram reels and TikTok saw a rapid upgrade in video format. The above dynamics suggest that social media users won't watch any video – the video must be engaging too. In 2022, use TikTok and Instagram reels to reach new followers.
8. Social ads will become classy
Google is planning to stop cookie tracking by 2023, which will see the death of third-party cookies. Fortunately, many ad options do not require third-party cookies. User-generated content and targeted ads will gain more prominence in the coming time. Rather than using third-party cookies – you can develop different data-driven strategies using metrics to understand the preferences of your users on a more personal level.
9. Social listening strategy will change
During the Covid Pandemic – most businesses jumped on the bandwagon with social listening. Besides, they liked being connected in real-time conversations and social responses. Additionally, most brands understood the importance of social listening to understand the customer's preferences.
To implement this – you need to set up three steams in social management tools – brand mentions, keywords, and hashtags. Besides, make sure people make the right decisions based on the strategy.
10. Consumers will gain snackable content
2020 saw the rise of Instagram and TikTok reels to engage with more people. As a result, most brands focused on short-form or snackable content to educate people about the brand.
As social media is still a prominent place where users spend time – snackable content won't lose importance in the future. Expect the rise of this trend in 2022. In addition, you can create engaging pieces for your profile like – memes, infographics, and GIFs.
Focus on new trends
Capitalize on social media trends and stay on top of your game in 2022. Leverage videos and create relatable content. Besides, use a conversational tone and always prefer quality to quantity. And lastly, the best thing you can do is – to continue researching the latest social media trends.
Author Bio:
Name: Bhavik Soni
Bio:
Bhavik Soni is a Creative Writer at Auto Monkey. We provide an original analysis of the latest happenings in the social media industry. Connect with Latest Social Media Trends and News plus tips on Twitter, Facebook and other social tools on the web.